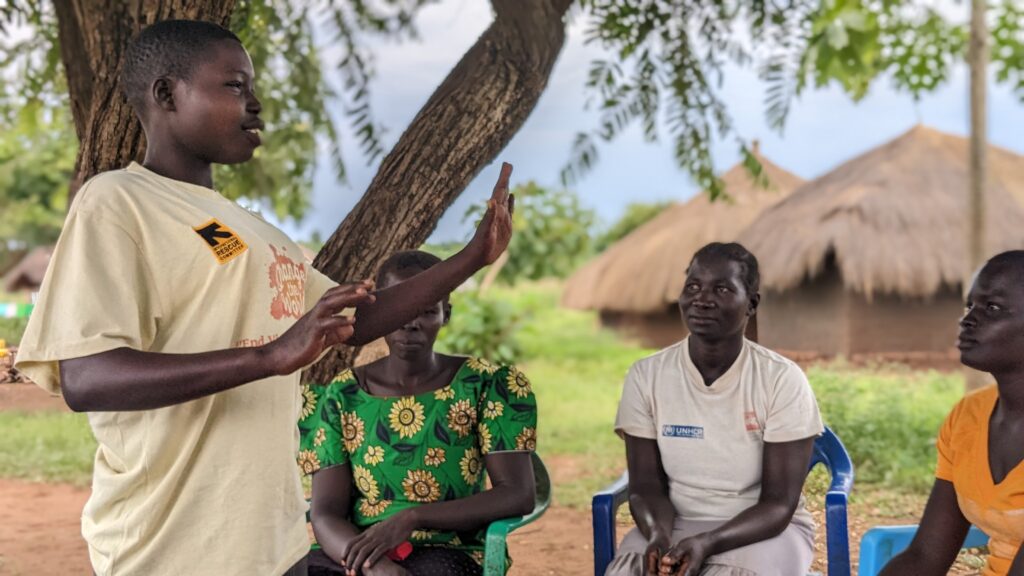 Advancing Self Care for Women & Girls in Humanitarian Settings (Uganda)
Situation
Self-care constitutes a fundamental aspect of women's and girls' approach to addressing their health requirements and those of their families. Lately, independent management of sexual and reproductive health (SRH) has gained prominence, aided by modern technologies, empowering women and girls to handle menstruation, fertility, pregnancy, and childbirth. SRH self-care interventions are becoming increasingly valued for their potential to fill critical SRH service gaps in fragile health systems such as humanitarian settings where we know that female refugees are particularly at risk of sexual violence, exploitation and abuse, and early or forced marriage. Recent studies and new global guidelines have demonstrated the promise of SRH self-care interventions including self-injected contraceptives, over-the-counter oral contraceptive pills, emergency contraception pills and self-managed abortion.
Assignment
Despite the growing recognition of SRH care especially in filling service gaps in health care, the International Rescue Committee (IRC) Airbel Impact Lab recognized that the reach of self-care in a humanitarian context is lacking. As such, there are few integrated self-care interventions that package and deliver different SRH self-care commodities and none have been implemented in humanitarian settings. Yet, girls & women in humanitarian settings- often have a range of SRH needs and delivering integrated services may help improve the range, use, and quality of different SRH self-care interventions, including self-managed contraception and abortion. With this context in mind, IRC sought to undertake an HCD approach to understand women & girls' experiences with self-care and other reproductive health products and services in Bidi Bidi & Palabek refuge settlements; identify opportunities for increasing contraceptive coverage through self-care; design & implement suitable interventions.
Approach
Proportion Global supported the design research of this project which was the first phase (2.5 months) of this project. Our user-centred design process encompassed behavioural research methodologies focused on uncovering evidence on how adolescent girls and young women in Bidi Bidi and Palabek refugee settlement camps are currently perceiving and experiencing access and usage of self-care contraceptives (emergency contraception, pregnancy tests, condoms, oral contraceptive pills, and self-injectable contraceptives) and self-managed abortion care services.
a) We commenced with designing an extensive research plan and designing research tools to answer the research questions posed by the IRC Airbel Impact Lab. Noel, the lead UCD consultant designed creative & interactive tools beyond the question-and-answer approach to allow participants to respond in a relaxed way given the sensitive nature of this research on the use and access of self-managed contraceptives and self-managed abortion. The research methods (interviews & focused group discussions) included role-play, card sorting, picture collaging, and visual scale activities which led to a collective understanding of user preferences, perceptions, and interactions with the different SelfCare products (condoms, Sayana Press, contraceptive pills, emergency pills & others) under investigation.
b) We tested the design research tools through a project workshop with the core project team comprised of local implementing partners (WORUDET & ACORD Uganda). We also conducted a pre-research visit to Bidi Bidi & Palabek refugee settlements to pre-test the research tools. As such, we were able to refine the design research tools before the kick-off of the research.
c) Noel worked with an on-ground IRC, WORUDET & ACORD team in Bidi Bidi & Palabek refugee settlements to conduct the research in both settlements. This was followed by a synthesis workshop with these different partners and IRC Airbel Impact Lab to derive multiple outputs ( Personas, Journey Maps, influencer and actor maps, systems maps and extensive miro, presentation PowerPoint to share outcomes of the research & identify opportunity areas for phase 2 (design of interventions).
d) Lastly, we were involved in the design phase together with the project team to reflect on the prioritized design challenges in collaboration with all project partners.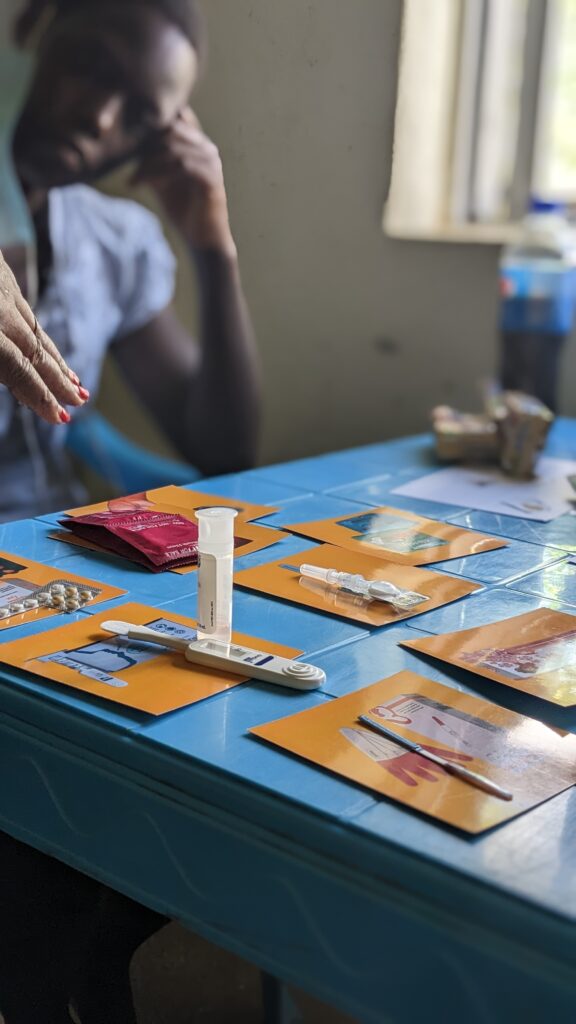 Result
The well-structured UCD process deployed in the design research phase led to the design of interactive research tools, a collaborative data collection process, capacity building of all project partners on the UCD process and overall generated clear evidence( insights) which have paved the way for IRC Airbel Impact Lab to design effective interventions for the project subsequent phases. Throughout this design research phase, we generated
a) Interactive & creative tools for research of sensitive tops: Roleplay, card sorting, picture collaging, visual scale activities which are replicable to study use, awareness, perception of Self-managed contraceptives and Self-managed abortion services.
b) Actionable Outputs: Personas, Journey Maps, influencer and actor maps, systems maps, and visual materials (Miro, PowerPoint).
c)Intervention Design: Active involvement in the intervention design phase alongside the project team and partners.
This project was commissioned by Proportion Global. If you've enjoyed reading this case and want to dive deeper, we'd love to hear from you. Reach out to us to discuss ideas, ask questions, or explore collaboration. Let's turn curiosity into action together. Contact Us