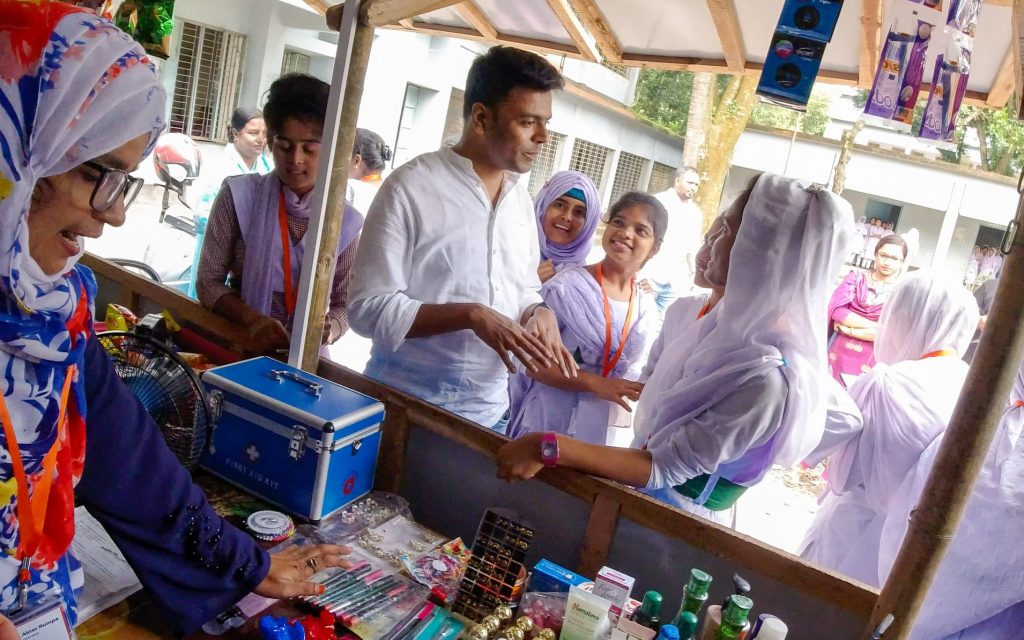 Dishari: Creating Market Connections for Youth Entrepreneurs in Bangladesh
Sajia Mridha (Bangladesh), Chetan Kaanadka (India), Thomas Schuurmans (Netherlands), various field staff (Bangladesh)
Oxfam desired innovative approaches to empower youth to work through setting up hubs in rural Bangladesh.
Co-creating a youth hub where youth entrepreneurs can offer their meaningful products and services to other youth.

Oxfam Novib works with various implementing partners in the rural areas of Bangladesh. We organised workshops locally, where we trained the local implementing partners on the basics of human-centered design.
After the workshop, the implementing partners conducted field research in their respective regions.
We jointly analysed the research findings leading into a concept that would act as a platform where youth and young entrepreneurs could come together.
Based on the concept direction, we pursuit additional research in one region to get a deeper understanding of all stakeholders in and around a public school.
These learnings resulted into a concrete prototype of the idea, which is a shop where various entrepreneurs would get the opportunity to offer their products and services to the learners and teachers of the school, governed by a board of young students.
We tested and piloted the prototype at the local school.
The pilot test results were used to make further refinements and to develop a business case projecting self sustainability, as well as a business plan to further replicate the concept across Bangladesh.
Dishari is a shop where youth entrepreneurs can offer their products and services to other youth and students. Based near a school premise, the Dishari shop offers a great market connection for youth entrepreneurs. In return, the entrepreneurs offer their products and services at a reduced price to the students and other youth. It is a combination of creating impact and creating business, while the students get access to meaningful but also joyful products.
This project was commissioned by Proportion Global. If you've enjoyed reading this case and want to dive deeper, we'd love to hear from you. Reach out to us to discuss ideas, ask questions, or explore collaboration. Let's turn curiosity into action together. Contact Us