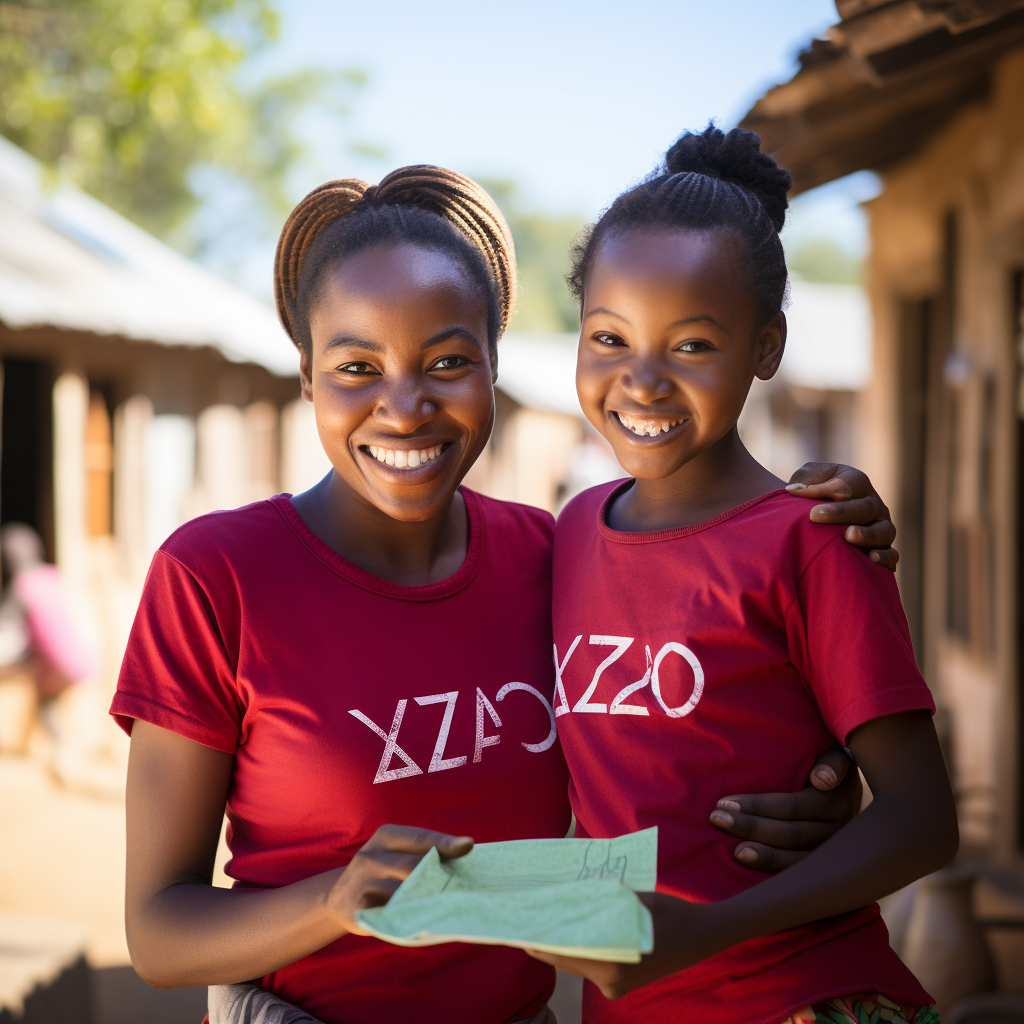 Situation
In the heart of Zambia, where women's rights and access to proper menstrual hygiene resources have long been a concern, the inception of Kozo Girls has brought a beacon of hope. The PEPFAR DREAMS program identified a critical need to address the challenges faced by AGWY in managing menstruation hygienically and with dignity. To combat this issue, Pact, Inc. partnered with local stakeholders to establish an innovative income-generating initiative that not only offered a sustainable solution but also empowered the very women it sought to assist.
Through extensive training in menstrual hygiene management, health education, and entrepreneurship, AGWY in the program gained invaluable knowledge and skills. They learned to manufacture reusable menstrual pads using eco-friendly materials, ensuring that the products were not only cost-effective but also environmentally responsible. Moreover, they were encouraged to embrace leadership roles, fostering an environment where their voices and ideas were central to the enterprise's growth and success.
As these young women began to produce and distribute reusable menstrual pads within their communities, a ripple effect of positive change began to take shape. Access to affordable and reliable menstrual products drastically improved, eradicating the need for unhygienic alternatives and enabling AGWY to engage in their daily activities without disruption. Furthermore, the economic opportunities presented by Kozo Girls allowed the participants to become financially self-reliant, thus breaking the cycle of poverty that had previously hindered their personal and educational development.
This case study explores the multifaceted impact of Kozo Girls on the lives of AGWY in Zambia, shedding light on the transformative power of youth-led social enterprises and the significance of addressing menstrual health with a holistic approach. Through their relentless dedication and commitment to effecting positive change, Kozo Girls stands as an emblem of empowerment, providing valuable insights into replicable models of sustainable development for marginalized communities worldwide.
Assignment
The Kozo Girls pads, after being operational for a year, experienced an overwhelming demand in the local market, prompting the need to expand their reach beyond the DREAMS project. However, the project's initial funding was closely linked to donor support, which necessitated the development of a sustainable business model to enable the successful scaling of the Kozo Girls initiative. The team in Zambia sought assistance to create a viable plan that would allow the project to grow and thrive independently beyond its current boundaries.
Approach
Taylor played a crucial role in supporting the local staff in charge of the Kozo Girls project under DREAMS. As a project manager, Taylor took charge of the scale-up activity, providing valuable guidance to the team throughout the process.
To ensure the success of the project, Taylor initiated comprehensive market research to gain insights into the feasibility of selling the pads on a commercial scale. This research allowed the team to understand the potential market demand and identify opportunities for growth.
Recognizing the importance of an effective marketing strategy, Taylor collaborated with the Adolescent Girls and Young Women (AGYW) to conduct a human-centred marketing campaign. By involving the target audience in the decision-making process, they were able to identify the most suitable channels for distributing the pads and establish a stronger connection with the end users.
Furthermore, Taylor took the lead in fundraising efforts for the project. This involved creating a well-defined target list of potential donors and crafting a compelling pitch deck that highlighted the social impact and importance of the project. Through these efforts, Taylor helped secure the necessary funding to support the scale-up activity and ensure its sustainability.
Overall, Taylor's approach involved a combination of research, collaboration, and strategic thinking, which proved instrumental in advancing the Kozo Girls project and its mission to empower young girls and women in the community.
Results
The Kozo Girls embarked on an inspiring journey that spanned eight months, culminating in their acceptance into the prestigious ScaleXDesign business accelerator program, generously offered by CARE USA. Traveling all the way to Atlanta, GA, they were bestowed with invaluable business mentorship that proved to be a turning point in their trajectory. A fantastic opportunity awaited them – the chance to pitch for a substantial $125K.
Drawing upon Human-Centered Design (HCD) principles, the Kozo Girls transformed into Lumuno Reusable Pads, a registered LLC in Zambia. This strategic shift allowed them to align their vision and objectives more effectively, empowering them to make a greater impact in the menstrual health and hygiene space.
Guided by HCD, Lumuno Reusable Pads thrived as they ventured into the local markets of Lusaka. Their dedication to providing sustainable and affordable menstrual products struck a chord with the community, leading to sustained profitability and a rapidly expanding customer base.
However, their achievements didn't end there. Lumuno Reusable Pads made significant strides by forging fruitful partnerships with members of the Zambian diaspora in the UK and USA. These collaborations held great significance as they collaborated with local NGOs to ensure the distribution of menstrual pads to those in need, creating a virtuous cycle of support and empowerment.
HCD played a pivotal role in Lumuno Reusable Pads' astounding results and continued success. By putting people at the core of their design and decision-making processes, they managed to address real needs, win over hearts, and create a lasting positive impact on menstrual health in Zambia and beyond.
This project was commissioned by Kozo Girls. If you've enjoyed reading this case and want to dive deeper, we'd love to hear from you. Reach out to us to discuss ideas, ask questions, or explore collaboration. Let's turn curiosity into action together. Contact Us