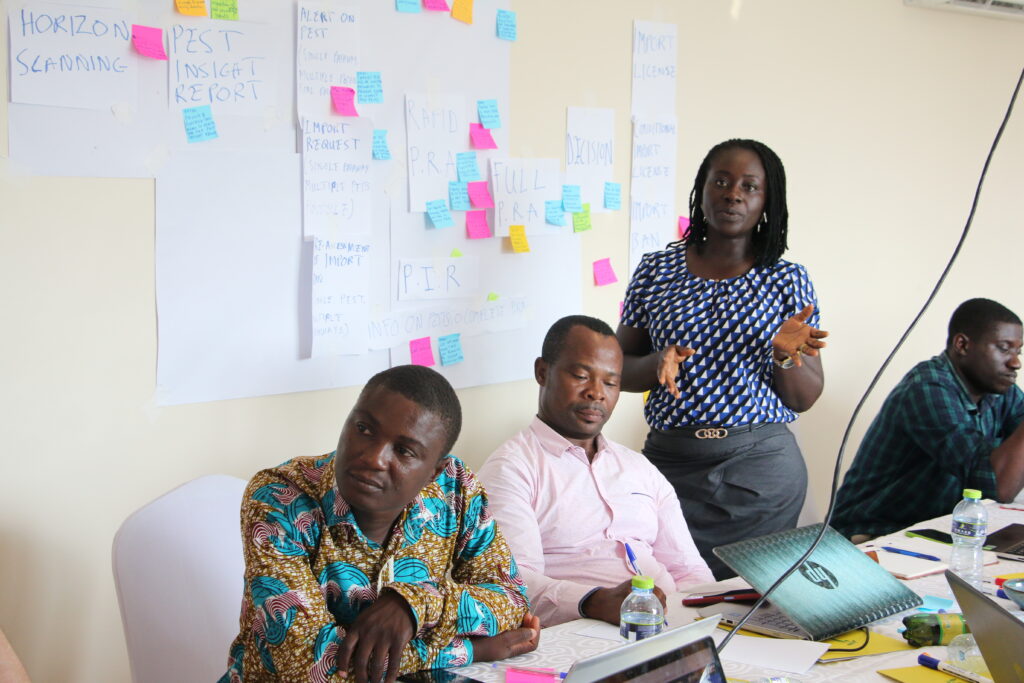 Empowering Collaborative Pest Control Solutions in Ghana. A Human-Centered Approach
Situation
In the past, countries worldwide faced challenges in keeping up with emerging pests that could harm their agriculture. CABI, a global organization, stepped in to help by creating a service that could alert countries about new risks. This service scanned various sources, such as scientific papers, news, and social media, to gather information. The goal was to guide countries in understanding potential risks and conducting the proper analysis. The pilot phase started in a few countries – Kenya, Zambia, Ghana, and Burkina Faso. In late 2021, CABI produced initial pest insight reports for these countries, and a second phase followed from May to October 2022 to improve the process based on user feedback. Each month, four reports were crafted, highlighting pests that could negatively impact agriculture if they entered these nations.
Context
CABI recognized the importance of its Pest Insight Reports, which aided local authorities in risk assessment and prevention of harmful pests. While committed to this service, CABI remained open to exploring additional solutions for governments. To achieve this, CABI embraced human-centred design (HCD) as an innovative approach. The aim was to deeply understand the needs and challenges of users (local authorities) and then collaboratively develop effective solutions. Seeking HCD expertise, CABI enlisted Proportion's support. The process began in 2022 with a focus on Ghana, with plans to extend this approach to other priority countries like Kenya, Zambia, Burkina Faso, and potentially even at a regional level. The intention was to create impactful solutions by putting users at the heart of the design process.
Approach
Our collaborative approach aimed to create a highly valued pest control solution for Ghanaian authorities while positioning CABI as a trusted partner in innovation. The goal was not only to design an effective solution but also to instill a culture of innovation using human-centered design (HCD) principles, applicable beyond this project.
We commenced with a kickoff meeting, uniting Proportion's consultants and CABI's program team from the UK and Ghana. After a concise HCD training for CABI staff, we mapped the decision-making system from the PPRSD (The Ghanaian Agency in charge of pest prevention) perspective, refining design challenge hypotheses through a collaborative workshop.
Strategically identifying key respondents within the system map, we developed a design research plan. Crafting Discussion Guides for in-depth interviews, observations, and focus groups, we trained CABI staff to conduct design research. Ahmed and some staff of CABI and PPRSD conducted research sessions, followed by analysis to identify patterns and refine design challenges, leading to a presentation-style research report by the Proportion team. Local stakeholder workshops with importers, universities and research institutions facilitated sharing of findings and meaningful Q&A.
We initiated an "inspiration deck" showcasing diverse cases, revealed in an interactive workshop alongside a "everyone can draw" exercise. The pivotal 3-day design sprint brought together the most promising idea, storyboards, low-fidelity prototypes, user testing, and reflective discussions. Our research report was enriched with a chapter detailing the design sprint process, low-fidelity prototypes, and user feedback.
Results
The outcomes we achieved revolved around a collaborative approach, distributing responsibilities among key partners, with PPRSD taking the lead, an idea conceived and prototyped collectively since all vital stakeholders were integral team members. Notably, this collaborative model underwent validation through the participants' extensive networks, effectively confirming its viability. The active involvement of key stakeholders within the sprint team facilitated this robust engagement.
Our solution comprised two primary components:
Collaboration Protocols: A prototype Memorandum of Understanding (MoU) was developed, outlining shared objectives, roles, and responsibilities among partners.
Practical Collaboration Tools: A mockup of an online platform was designed to address the practical aspects of working together.
The participants and stakeholders found both solution elements feasible, desirable, and viable. Our assessment, conducted by Thomas and Ahmed, affirmed the high achievability and substantial potential impact of both proposed solutions.
This project was commissioned by Proportion Global. If you've enjoyed reading this case and want to dive deeper, we'd love to hear from you. Reach out to us to discuss ideas, ask questions, or explore collaboration. Let's turn curiosity into action together. Contact Us