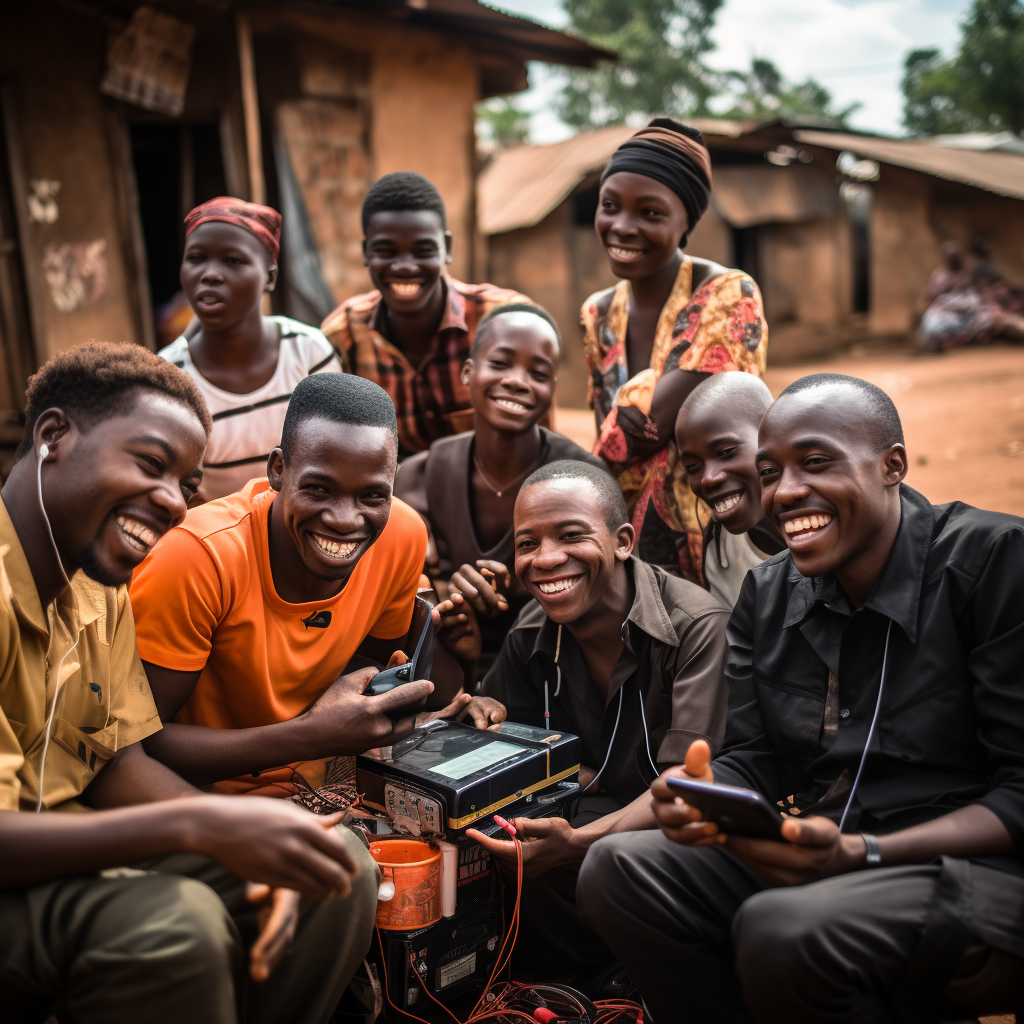 Promoting SHRH, Mental Health, and Entrepreneurship Through Multimedia in Uganda
Situation
In today's fast-paced digital era, television has emerged as a powerful medium to engage urban youths, providing them with access to a diverse range of content. However, this phenomenon does not extend seamlessly to rural regions where a significant portion of the population lacks access to digital TV, data, or the Internet. Instead, radio stands tall as a widely accessible medium in rural areas, with approximately 81% of rural citizens having the means to tune in. Recognizing this disparity, the Rural Access and Health Union (RAHU) aims to bridge the gap and expand its reach among rural communities.
In this case study, we delve into RAHU's quest to reach out effectively to rural listeners through a multi-channel programming strategy, combining the power of radio and television. Despite their initial forays into understanding rural youths' preferences, RAHU acknowledges the need for further in-depth research to cater to their unique needs and aspirations. By embracing a pioneering approach and gaining insights from comprehensive research, RAHU seeks to unlock the vast potential that lies within the untapped audience in rural areas.
Assignment
Assist the Reach a Hand Uganda (RAHU) team, in collaboration with partners Gen G Uganda and SautiPlus Media Hub, in devising an innovative concept aimed at extending the impact of their digital SautiPlusTV content to reach and benefit rural youth with limited or no access to such resources. This project will be supported by donors Rutgers and will encompass both rural and urban districts, specifically targeting Arua and Kampala.
The Human-Centered Design (HCD) team leading this effort comprises Margaret and Noelle from Uganda, along with local junior research assistants from the Reach a Hand Uganda team. Additionally, Thomas from the Netherlands will be providing his expertise to enrich the project.
The primary objective is to develop a solution that brings essential information and resources to the underserved rural youth population, empowering them with knowledge and opportunities for personal and educational growth. The envisioned concept should take into account the unique challenges faced by these youth in accessing digital content and devise a sustainable, practical, and impactful approach that bridges this digital divide.
Approach
During a 2-week innovation sprint, we followed a structured Human-Centered Design (HCD) approach to address the challenges faced by youth in both rural and urban settings. In the first week, we conducted a research sprint, collaborating with experts and engaging in qualitative research with youth from the community. The aim was to transform a broad problem into a well-defined design challenge.
Through this research sprint, we identified that the youth lacked access to information and skills training needed for sustainable livelihoods. However, they showed a keen interest in engaging and entertaining content related to sexual and reproductive health, entrepreneurship, and mental well-being, provided it was presented in languages they understood.
We discovered that there are several non-governmental organizations, media programs, and local council leaders in both rural and urban areas willing to offer relevant information and services. Nevertheless, they encountered difficulties in obtaining funding, resources, and government support necessary to reach and serve all communities effectively.
Moving on to the second week, we conducted a design sprint with the Reach A Hand Uganda team, and together, we created five personas representing different segments of the youth population, including teenage parents, entrepreneurs, and rural and urban youth from the selected research locations.
During the ideation phase, we collaborated closely with the RAHU team and arrived at a final concept called the "SautiPlus Media Hub." This innovative platform serves as a multichannel content creation and distribution platform, catering to youth and partners alike. It focuses on generating and delivering inclusive content related to Sexual and Reproductive Health, Entrepreneurship, and Mental well-being.
In order to cater to the specific needs of the target users, we designed and tested low-fidelity prototypes, incorporating feedback from the needs assessment studies in Arua and Kampala.
To ensure the success of the project, Proportion consultants provided weekly coaching sessions to the RAHU team. This coaching aimed to assist them in transforming low-fidelity prototypes into high-fidelity ones.
Finally, we collaborated on two remote workshops with the RAHU team to craft a pilot plan for the next nine months, outlining the roadmap and implementation strategy for the SautiPlus Media Hub.
Overall, the innovation sprint followed a thorough Human-Centered Design approach, starting with research, ideation, prototyping, validating the prototypes, and finally, crafting a comprehensive pilot plan for the transformative platform.
Results
Under the guidance of the Proportion Team, the RAHU team successfully integrated 10 different solutions into one cohesive working concept, encompassing various prototypes. These prototypes were put to the test with the active participation of over 40 potential beneficiaries and stakeholders. Subsequently, the RAHU team conducted pilot tests for the working prototypes.
The working prototypes included the following components:
Youth Generating Contents: Onsite interviews and Campfires conducted by RAHU educators across Uganda.
Youth Consuming Content: Utilizing social channels to empower young entrepreneurs and encourage content creation based on lessons learned from success stories, thus improving their livelihoods.
USSD Chat Service: Offering on-demand support on topics such as entrepreneurship, mental health, and sexual and reproductive health through USSD interaction.
Listening Clubs: Peer educators facilitated these clubs across Uganda, creating a platform to share entrepreneur success stories and contribute to content creation.
Pitch Deck: A targeted approach towards potential collaborators and funders for entrepreneurship training programs (TVETs).
As a result of these efforts and collaborations, RAHU managed to reach an impressive number of young individuals. On a weekly basis, they were able to connect with 16,000 youths in person. Over the next five years, their reach expanded exponentially, with 50,000 youths engaged through SautiPlus TV and an astounding 2 million youths benefiting from new innovations.
Furthermore, RAHU successfully partnered with entrepreneur support organizations to organize inclusive training sessions catering to both rural and urban youth entrepreneurs. This holistic approach aimed to empower and equip young entrepreneurs with the necessary tools and knowledge to thrive in their ventures.
This project was commissioned by Proportion Global. If you've enjoyed reading this case and want to dive deeper, we'd love to hear from you. Reach out to us to discuss ideas, ask questions, or explore collaboration. Let's turn curiosity into action together. Contact Us